FO
series

4-brush set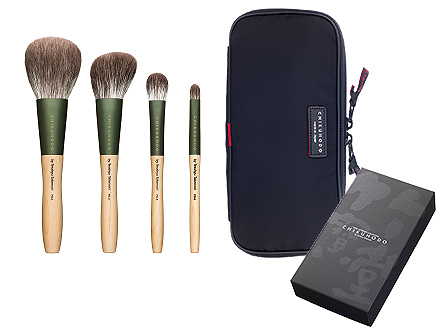 S-FO-4 : FO SERIES 4-brush set
Price: JPY 38,170.00
Code
Name
Hair
material
Shape
Total
length

(mm)

Hair
length

(mm)

FO-1
Powder
Blue Squirrel/
Silver fox
Flat-round
155
45
FO-4
Cheek/Highlight
Blue Squirrel/
Silver fox
Diagonal
145
35/20
FO-5
Eye shadow
Blue Squirrel/
Silver fox
Flat-round
130
20
FO-6
Eye shadow
Blue Squirrel/
Silver fox
Flat-round
121
11
C-25
Case
Nylon

Size when stored


200×90
(Premium) Silver fox, an industry first material offered by Chikuhodo.
*(Premium) Silver fox hair is an original material from Chikuhodo that reuses fox hair collected in excess by processing it using our original methods to create makeup brushes.
At present we sell our production to USA,CANADA,EUstates,Hong Kong,Taiwan,Singapore,Thailand,Switzerland.
We Hope for your kind understanding.

After your purchase, in some cases we will send you an identity confirmation e-mail.
In the case identity verification, via reply to said e-mail, is not possible, we might be unable to process the credit card transaction. Please understand.