R-LQ2 / RR-LQ2
Liquid
Quickly and evenly applies liquid products to give your skin a translucent finish. The flat shape with strong flexibility firmly adheres to the skin, covering even small details. Requires less foundation than a makeup sponge, and as foundation is less likely to remain on the brush, it is easier to clean.
Hair material

Weasel

Shape

Flat-round

Total length

141

[mm]

Hair length

21

[mm]

Price

JPY 8,800.00
● Hair length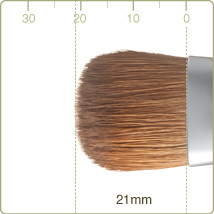 ● Feeling




How to use
Liquid brush
● Customer reviews (1)

Excellent
Lovely brush. I appreciate chikuhodo not mixing their natural fibers with synthetic fibers. I like my brushes to be made out of natural hair. On very rare occasions I would pick up a brush made out of synthetic hair. Natural hair brushes are my thing.

At present we sell our production to USA,CANADA,EUstates,Hong Kong,Taiwan,Singapore,Thailand,Switzerland.
We Hope for your kind understanding.

After your purchase, in some cases we will send you an identity confirmation e-mail.
In the case identity verification, via reply to said e-mail, is not possible, we might be unable to process the credit card transaction. Please understand.