P-FO
Silver Fox – A New Natural Bristle Material Created by Brush-Crafter Tesshu
Our 3rd limited-edition powder brush made from silver fox hair
Our third limited-edition powder brush made of silver fox hair, which combine softness which rivals that of blue squirrel hair with the firmness and powder flowability of goat hair, is here!
We added further improvements from the very popular first and second brushes by lengthening the bristles and flattening their shape into just the right thickness to maximize the smooth and moist feel of the brush on the skin. Enjoy the feel of adherence and touch to the skin that only silver fox hair can impart.
A limited-edition
release of 50 brushes
Powder
Hair material

Silver Fox

Shape

Flat-round

Total length

178

[mm]

Hair length

58

[mm]

Price

JPY 41,800.00
● Hair length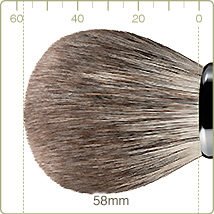 ● Feeling




How to use
Powder brush
At present we our production to USA,CANADA,EUstates,Hong Kong,Taiwan.
We Hope for your kind understanding.

After your purchase, in some cases we will send you an identity confirmation e-mail.
In the case identity verification, via reply to said e-mail, is not possible, we might be unable to process the credit card transaction. Please understand.